We are a group of 38 (17 adults and 21 children) who have teamed up together to bring Revival to America. In 2021, we held 11 tent revivals, from April - October. In 2022, we held 17 tent revivals from January-October. We are planning on holding 18 tent revivals in 2023.
We believe that 2023 will be a year of repentance and that now is the time when the harvest is truly plentify. We are thankful to be workers in the Lord's vinyard. Our desire is to evangelize the lost, revive the body, and partner with local churches.
Time Frame:
- We prefer to arrive on Wednesday to setup camp and tent.
- Thursday night we offer evangelism training, outreach, or prayer under the tent.
- Services are Friday - Wednesday, 6:30 nightly.
- Sunday am services are optional depending on the local church (we do ask that Evangelist Matthew Eckart be the guest speaker Sunday morning).
- Tear down and pack up on Thursday.
What we provide:
- 48 x 91 or 48 x 135 oval tent that will seat up to 600 people
- 48 foot round prayer and intercession tent
- Full worship team
- Tent setup and teardown crew
- Evangelists
- We provide chairs, lights, fans, heaters, generators, stage, sound equipment, baptism tank with heater, Bibles & discipleship material..
What we need from you:
- Location to setup tent
- Location to setup 7 RVs, preferably next to tent
- Water hookup for RVs, 1 is sufficient; electricity if possible; access to sewer cleanout for RVs
- Restroom facilities for Tent Revival services
Finances:
- We do not charge for the Tent Revival.
- We will take up a love offering nightly under the tent and trust the Lord.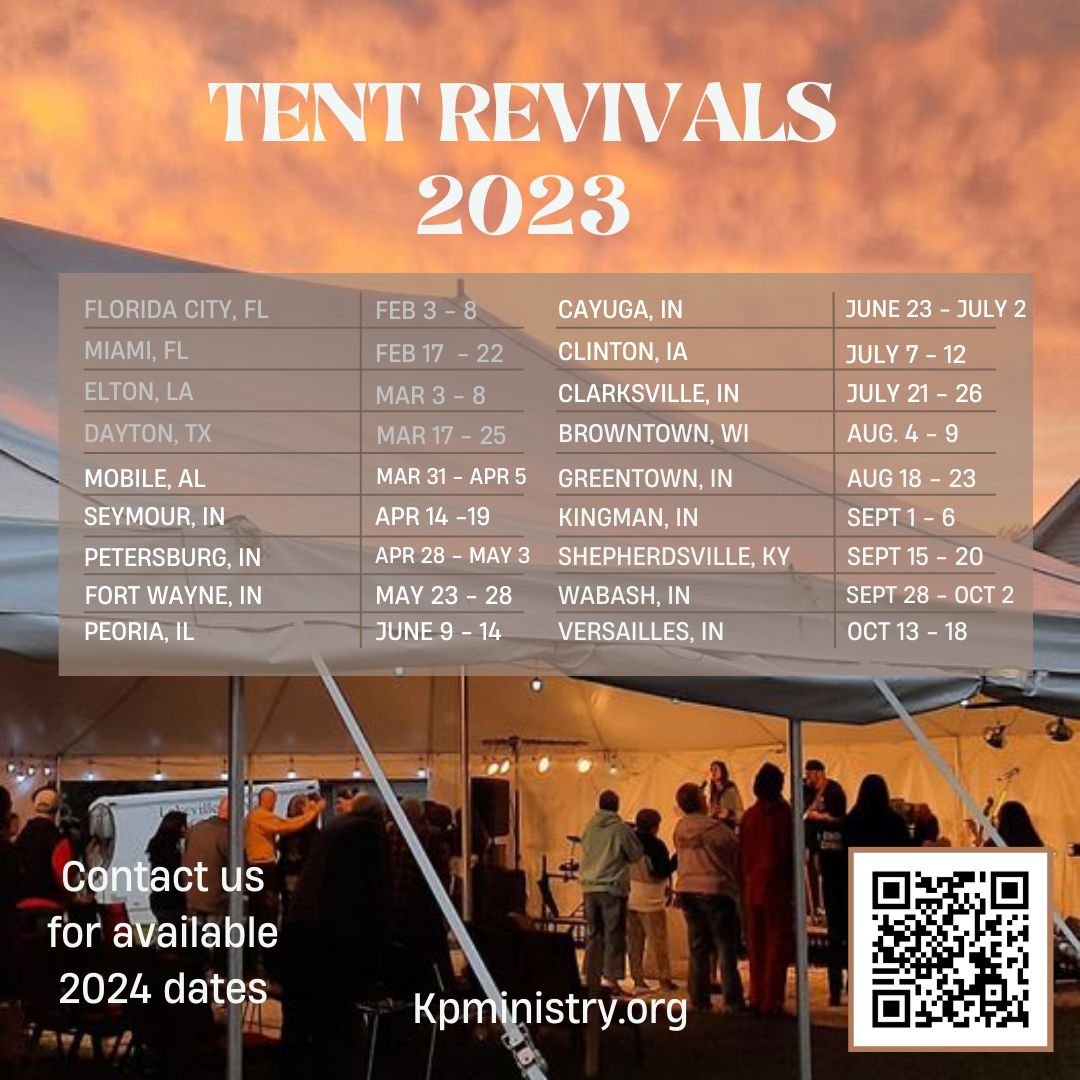 " LORD, I have loved the habitation of Your house,
And the place where Your glory dwells."
Psalm 26:8

Contact us if you would like to have a tent revival in your community!
Evangelist Matthew Eckart:
812-703-0409
meckart1@att.net